Booking :
CARTHAGE - SIDI BOU SAID - BARDO
---
(*) Tours departure from the Hotel
CARTHAGE - SIDI BOU SAID - BARDO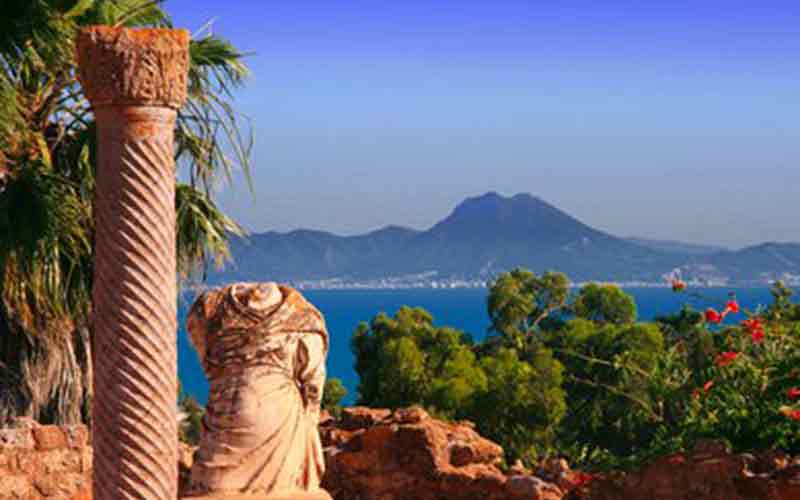 Carthage, an unforgettable history
One of the best halts in Tunis is its northern suburb, located on the seafront. The capital has extraordinary monuments that bring you back to the ancient times of Tunisia.


In Carthage city, astonishing ruins from the Punic, Roman and Byzantine era, decorate the town overlooking the Mediterranean Sea.


The Roman villas, the Antonine baths with their huge gardens, the Punic port, the amphitheatre and the Saint-Louis cathedral are only an architectural overview giving a glimpse of Tunisia's treasures.


Sidi Bou Saïd
The charming village, classified as a world heritage site by UNESCO since 1979, Sidi Bou Saïd is the capital's must-see village. Perched on a cliff and entirely painted in blue and white, it reflects a fresh and warm Mediterranean atmosphere.


Naturally decorated with fruit trees and greenery, it is home to the most beautiful typical houses of the Tunisian bourgeoisie. It has Arab-Andalusian architecture, reminiscent of a unique traditional way of life.


Source of inspiration and happiness, Sidi Bou Saïd attracts, thanks to its panoramas, writers and artists from all over the world.


Bardo Museum
A visit to the famous Bardo Museum, the ancient city of the royal palace, will allow you to discover its collection of exceptional mosaics, sculptures and royal jewellery.
Day of departure : Tuesday & Saturday
Means of transport: Bus
Duration :
Notice: Undefined variable: excursions in /home/ttshotel/www/wp-content/themes/evastin/content/excursion_detail.php on line 610

Notice: Undefined variable: i in /home/ttshotel/www/wp-content/themes/evastin/content/excursion_detail.php on line 610

Adult price : 70 USD
Children's price : 35 USD
All inclusive : Tour Guide / Entrance Fees / Lunch
Other trips