Booking :
EL JEM-KAIROUAN-MONASTIR
---
(*) Tours departure from the Hotel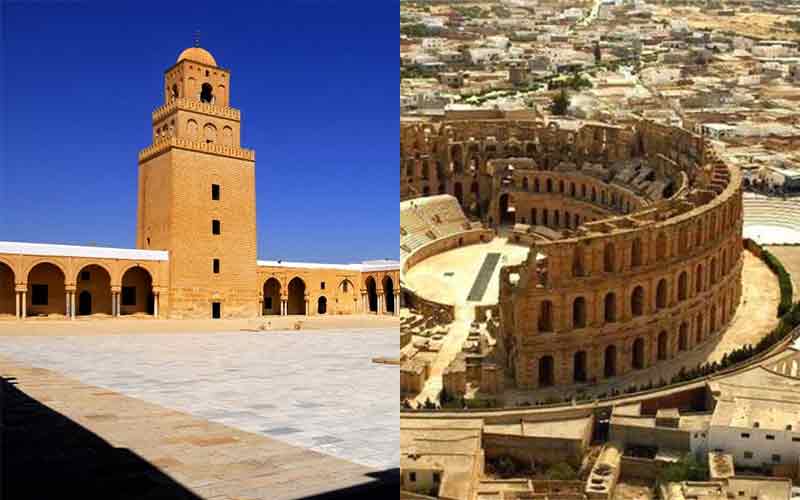 El Jem
Take a trip to the city of El Jem to discover the 3rd biggest Coliseum worldwide.
Located near the coastal city of Mahdia, it is famous for its majestic Roman amphitheatre.
Moreover, the building is better preserved than the one in Rome. Every year it attracts thousands of visitors who seek travelling back in time and experiencing the gladiators' era.
The amphitheatre used to host up to 30,000 spectators to attend these fights.
Today and since 1985, the city holds the International Festival of Symphonic Music, every summer. It gives even more magic to the monument. Throughout the year, the amphitheatre remains accessible to local tourists and foreigners.

Kairouan
From the Roman civilisation, we take you to the Arab period.
Kairouan is the first Arab-Muslim foundation in North Africa. Islamic religion started there before it spread over the Maghreb area. Besides, it possesses the most beautiful religious buildings in the country. The most famous one is the mosque of Sidi Sahbi, the Patron Saint of the city.
It also has a charming typical medina, oriental markets and remarkable craftsmanship. Kairouan city is mostly known for its handmade carpets manufacturing.


Monastir
It is one of the most beautiful coastal cities in Tunisia. In Monastir, deep history mixes with modernity. The main attractions are the Mausoleum, the Ribat, the Marina and the typical Medina.
Day of departure : Thursday
Means of transport: Bus
Duration : 1
Adult price : 68 USD
Children's price (Age < 12 years) : 34 USD
All inclusive : Tour Guide / Entrance Fees / Lunch
Other trips